Our team will keep your windows crystal clear!
Commercial building maintenance is usually multi-faceted and requires regular attention to maintain the appearance of your space. While most of the focus on building maintenance is on the interior, the exterior requires attention as well, since the first thing people see when they arrive is the building's facade.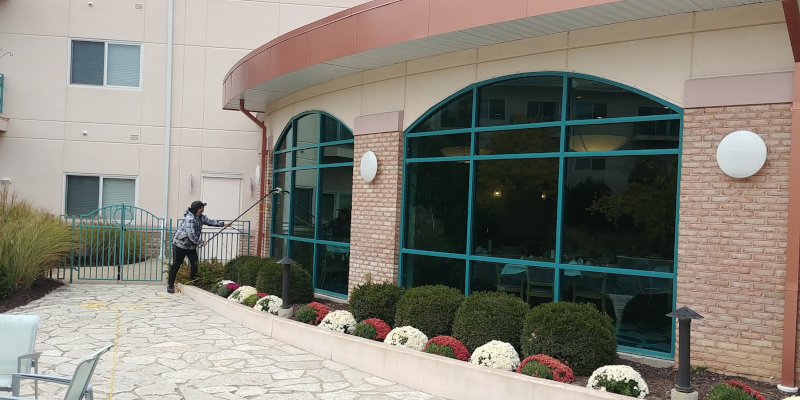 Commercial window cleaning is one big component of exterior cleaning that should not be overlooked. The cleanliness of the windows is noticed from the inside and the outside of the building. Keeping your windows clean allows more natural light to fill your space and make it more appealing to both clients and employees.
At Superior SoftWash Systems, we specialize in commercial window cleaning and utilize a soft wash method that is far superior to pressure washing. We use water-based, 100% biodegradable chemicals to eliminate dirt, debris, grime, insect webs, mold, mildew, and algae and sanitize surfaces rather than only rinse off surface dirt.
Using biodegradable cleaners and green energy, as well as only one-third of the water used in pressure washing systems, our system is an eco-friendly option, and we are members of the Good Stewards Network. We offer the best in the industry and have the experience and extensive training to assure you that you are in good hands. We are a fully insured business and well equipped to handle your commercial window cleaning needs.
If you are looking for a trustworthy cleaning company serving Wausau, Wisconsin, look no further! Our team is ready to help your business shine. Give us a call to schedule your gentle commercial window cleaning today. We'll help you preserve your surfaces while getting the best clean possible. We look forward to working with you soon!