If you want to keep your business looking its best, call our team to get expert commercial exterior cleaning services.
No matter what kind of business you run, a key part of keeping your operation successful is taking care of the facilities. This includes everything from maintaining the plumbing and electrical systems, to making sure that the exterior looks clean and inviting. If your commercial building's exterior has seen better days, then we at Superior SoftWash Systems encourage you to give us a call to learn more about our commercial exterior cleaning services.  If you have tile floors or walls like bathrooms or manufacturing facilities that need to be cleaned or degreased, we have chemicals to clean and sanitize those areas. If you have outdoor seating areas that could use a deep cleaning and sanitizing, we have the team for those jobs as well.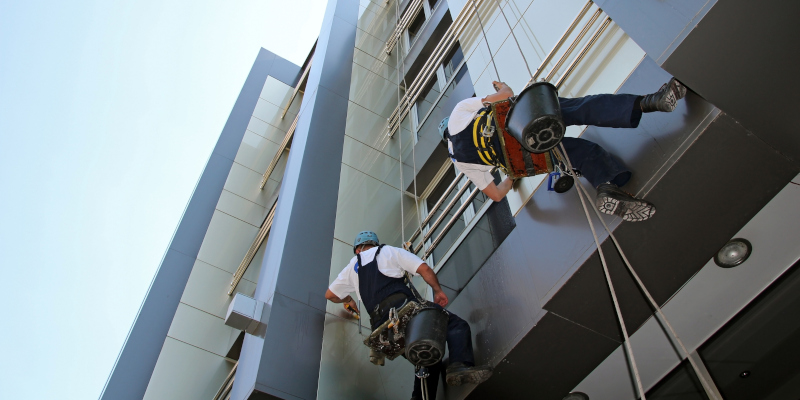 The commercial exterior cleaning services that we offer use a method known as soft washing, which takes its name from the fact that the water pressure it uses is much lower than that used in standard pressure washing. Before we apply water jets to your walls, we will first apply a specialized, biodegradable cleaning solution that will break down the insect nests and webs, grease, dirt, and grime and make them easier to wash away. Then, we'll spray the building with a rinse solution to rinse away the dirt, as well as any mold, mildew, algae, adding UV protection, as well as leaving a clean, clear, spot-free rinse on windows. Our cleaning formula will also prevent these contaminants from returning for long periods of time, and our results will last anywhere from four to six times longer than those of standard pressure washing.
Our team is proud to serve local businesses here in Wausau, Wisconsin, and we want to help you make yours the best it can be. If your building is starting to look dingy, we encourage you to give us a call to get our commercial exterior cleaning experts on the job—we'll have it looking as good as new in no time.