We offer roof cleaning to keep your home safe and make it look great.
As your home's best defense against the elements, your roof is extremely important. It's also very susceptible to accumulating dirt, mildew, mold, algae, bacteria, and insect nests or webs. Letting these things thrive on the top of your roof is never a good idea.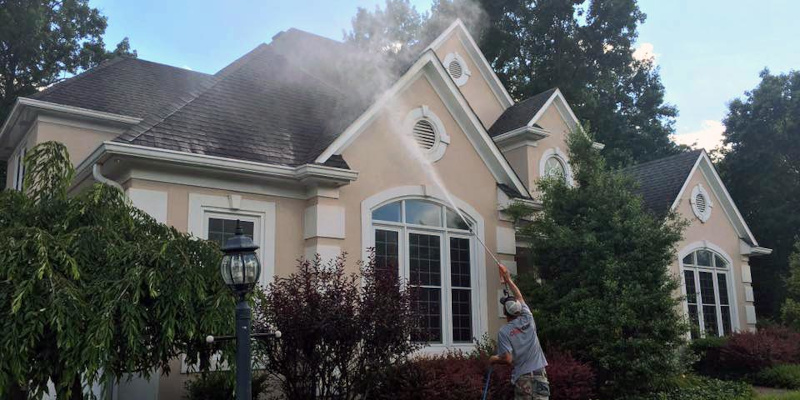 Mildew and mold can weaken your roof, threatening its structural integrity. They also may cause you and your loved ones to have allergic symptoms or become ill. In addition, letting insects live on your roof just makes it easier for them to find their way inside. If your roof is covered in grime, they make your home look attractive to pests. Taking care of these problems yourself is time-consuming, irritating, and dangerous, but it doesn't have to be that way. Hiring a professional to do your roof cleaning for you is your best bet.
The best way to do roof cleaning is through soft washing. Soft washing is a gentle method that uses very low-pressure water and special chemical solutions that treat stains and other issues directly. Instead of spending lots of effort scrubbing the surface or risking damaging the roof by pressure washing it, the soft washing chemicals do all the work of breaking down dirt and grime and killing the mildew, mold, algae, and bacteria. When the work is done, you will see noticeable results that last longer than other roof cleaning methods do.
At Superior SoftWash Systems, we are proud to serve the Wausau, Wisconsin community with our roof cleaning services. Give us a call if you have questions or you would like to schedule one of our services.