Let us clean your overlooked exterior surfaces.
As a homeowner, the list of things to do around the house is never ending and can feel overwhelming. With so many home maintenance items on your list, some things may get overlooked as you manage your time between work, family, social obligations, and allowing time to rest. At Superior SoftWash Systems, we are here to help!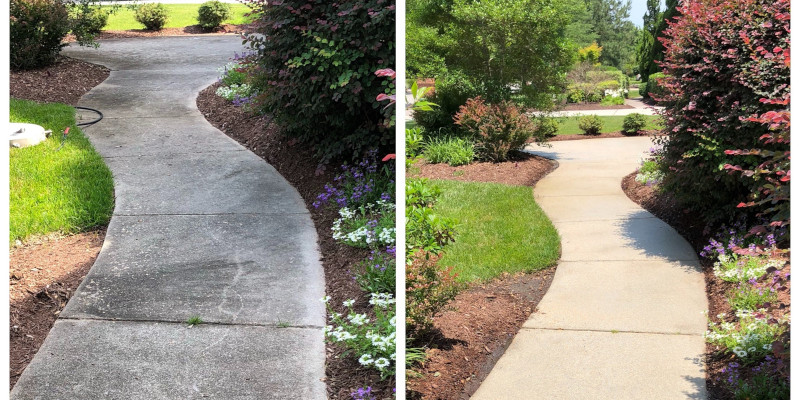 Among other exterior cleaning services, we offer concrete cleaning, which is something that may be overlooked around your home. If you have a concrete walkway, patio, driveway, or deck around your swimming pool, you are likely in need of concrete cleaning. Many people choose to pressure wash these surfaces, but that can erode the surface, and while it may appear clean for a short time, it isn't long lived, as pressure washing only rinses the surface with high-powered water.
At Superior SoftWash Systems, we use a gentle method with water-based, 100% biodegradable chemicals to fully clean and sanitize surfaces to emulsify dirt and grime, break down insect webs and nests, and kill mold, mildew, and algae. Best yet, we can do it all using only one-third of the water of pressure washing.
Our soft washing method is gentler on surfaces and much more effective at eliminating the dirt and microorganisms on your concrete surfaces than other methods. If you are looking for effective concrete cleaning for your Wausau, Wisconsin home, look no further! We offer the best cleaning in the industry and stand behind our work.
Every member of our team receives in-depth, hands-on training so that we can exceed your expectations. We are fully insured, trustworthy, and work with integrity on every job. Your satisfaction is our goal, and we promise to meet that goal every single time. Give us a call today to schedule your concrete cleaning with one of our friendly team members. We look forward to hearing from you!