Make your brick house or building look brand new!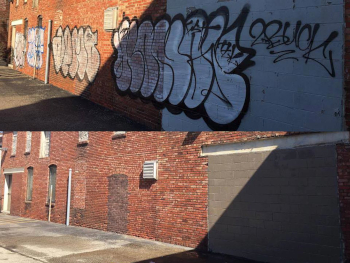 Brick remains one of the most popular construction materials for homes and other buildings to this day. Aside from being energy efficient, durable, and sustainable, it is aesthetically appealing and never seems to go out of style. However, it momentarily loses its appeal when it becomes dirty, so it is important to remove the grime and restore the brick to its proper state. While there are a number of DIY methods or other professional brick cleaning services you could try, you can't beat soft washing.
Soft washing is a safer alternative to pressure washing, which you may be familiar with. While pressure washing uses high-pressure jets of water that can damage your brick, soft washing uses far less pressure in conjunction with specialized biodegradable chemicals. This method breaks down dirt and kills mold, mildew, algae, and bacteria on your brick. The treatment also lasts four to six times longer than pressure washing does, so you get your money's worth and then some with this brick cleaning service.
If you have a home or building in the Wausau, Wisconsin area that could use professional brick cleaning, we can help at Superior SoftWash Systems. We'll provide effective results and keep your home or building looking brand new and grime-free for a long time. We are certified and fully insured to do many different soft washing services in addition to brick cleaning, such as concrete, deck, patio, driveway, fence, gutter, roof, siding, solar panel, and window cleaning. Give us a call today if you have any questions. We look forward to hearing from you.